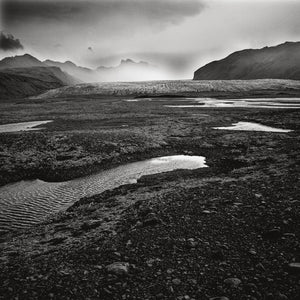 Bare Lands is an original project in the work of Jean Hervoche, a traveling photographer in search of solitary landscapes. In his images, the human figure emerges to remind us of our humanity, facing the roughest elements of nature. Joël Vernet, poet and writer, puts his words on the photographs and gives us a tribute to the elements and to men.
100 pages - 50 photographss
Format 220 x 250 mm - Two-color printing
Hardcover and canvas cover - ISBN: 978-2-36510-062-5
"On a plank thrown into the grass where a whole people of ants, insects, flies, lizards are rife with, I posed the images of Jean Hervoche, this photographer of Nordic dazzling, shattered lakes, shimmering skies, rising fusion depths. Under the spring flowers, I invent a blue that does not exist anywhere, but whatever. Life comes back to life. The earth is heating up. The clouds are no longer glaciers. The snows are melting. Parties are preparing. Lovers open the ball. . Serious people watch over a dead man and it is the back of a woman's neck, whom I imagine beautiful, that my gaze fixes. Life and death are a great house in which all inclement weather, the best suns, the beautiful hopes are engulfed. Often the time between these two deadlines: we have to widen the landscapes, push open doors, collapse barricades, unpretentious fences ... The landscapes explode in deafening silence.assourdissant.
This silence, I hear in the photographs which tremble in these pages. It is towards him that I have always walked. When I hear it springing from the earth, I can tell myself that all is not lost, that certain beings know how to take care, to love, to join in the celebration, fête,  that Nature in her dresses of very beautiful light, knows how to show us her resistance, to spare us perhaps this distant sorrow which she does not want to address to future generations, to all those children who are born here or there, with the beautiful ambition to live quite simply. All these photographs, I look at them as one would look at a lamp in the night, a very small lamp which miraculously lights our paths. Gap to the south, towards the end of winter. Not that the North is not born its light, not at all. But the two poles illuminate us like two lanterns, and it is still the life of which I hear the imperceptible murmur wherever I go, see, and contemplate like a photographer without a camera. In my garden, under the elder tree, it is this journey that I have just undertaken thanks to the images of Jean Hervoche, this book allowing us to disperse them a little better in the lazur.ans l'azur.
Basically, a book is a bird with a thousand wings. The photographer allowed him to take off by looking at the sky and the earth, tirelessly, crossed by the poignant beauty of silhouettes. "
Joel Vernet