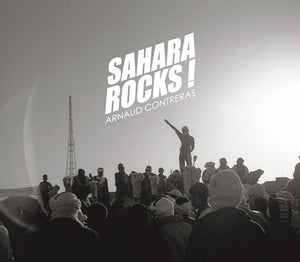 Sahara Rocks! tells us about these Saharan musics of today, rock, blues, which are the original bands of the wandering of the populations of the great desert, of their festivals, of their fights and the best visa so that their cultures can cross borders.es.

In photos and texts, the author takes us on a journey with these women and men, to share with us what he has learned with them. He makes us discover the Ishumar culture, from the French unemployed. They have their lifestyle, their musical style, their look. They circulate throughout the Sahara, depending on the jobs. With them, we laugh a lot, we practice self-derision, even in serious moments. They tell us about the modernity of these young Tuaregs, Arabs, Songhai, Moors who spread good and bad news via Facebook and their mobile phones. A Sahara far from myths, well anchored in the 21st century.siècle.

Arnaud Contreras is a photographer and producer of documentaries and radio reports from France Culture and RFI. He has worked for many years in the Sahara, in particular with rocker and bluesmen musicians such as Tinariwen, Tamikrest, or Bombino. Through his reports and documentaries, he talks about their music, their youth, their struggles.s.
27 x 20.5 cm - 140 inner pages
79 black and white photographs
Photographs and texts by Arnaud Contreras
English translation by Andy Morgan
ISBN: 978-2-36510-043-4
-------------------------------------------------- -------------
"Sahara Rocks! is a book on the Sahara today, its youth, its musicians, and their struggles. A documentary work about a desert that rocks with the beat of electric guitars.
I want to portray the modernity of young Tuaregs, Arabs, Songhaï, and Moors who share both good and bad news through their social medias accounts and their cell phones. Todays Saharan music rock, blues, guitar is the soundtrack to their wanderings, their parties, their struggles,s,
and the only visa that can permit their culture to cross frontiers. "Arnaud Contreras
27 x 20.5 cm / 140 pages
79 duotone pictures
Photography and text by Arnaud Contreras
English translation by Andy Morgan

ISBN: 978-2-36510-043-4