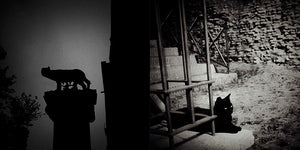 Roma Amor fromJuly Editions weVimeo.
Away from the roar of scooters and theDolce Vita, Roma Amor delivers us a contemplative vision of the Eternal City, in its most romantic aspects. The ruins, the statuary and the architectural details form the backdrop for a painting that Hubert Robert would not have denied.é.

The text by Jean-Louis Poitevin offers a free interpretation of images, in the form of a timeless wandering, in a deserted, eternal Rome..
Jérôme Sevrette is a photographer, he is the author of New Lands (Ed. De Juillet, 2013. Jean-Louis Poitevin is an art critic, founder and collaborator of the reviewe TK21.
Authors: Jérôme Sevrette - Jean-Louis Poitevin

14 x 14 cm - 56 pagesinterior in color - soft cover
ISBN: 978-2-36510-039-7