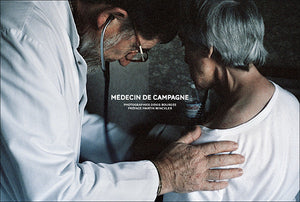 Produced in the Côtes-dArmor in 2001 and then 2008, this photographic work bears witness to the family doctor's relationship with his patients, in the countryside of this department. Denis, photographer, enters this universe by following the characters as closely as possible: his father, a country doctor in his last year of practice, followed by the next generation, the young doctor in the footsteps of his elder.îné.
The preface ofCountry doctor is written by Martin Winckler, doctor and writer, author in particular ofSachs Disease, Three Doctors, The Women's Choir.

Denis Bourges: In Country doctor, my photographs tell of what is usually held to medical confidentiality: intimacy, listening, a social bond. The patient / doctor relationship is experienced at each visit. It is both universal and inherently subjective. This is how we relate to our body, to illness, to life, but also to our disappearance.… »

Next to road movie, we follow the doctors in their visits. From one house to another, in the background, the Breton countryside emerges. Surreal decor, that of the sad reality of the desertification of the territories. Christophe, the young doctor, reproduces the gestures of his predecessor, with the same humanity and the same passion for his profession, to treat. The two men appear without any particular chronology, they embody the Doctor and tell us by the warmth of their presence how indispensable it is. This book offers, in watermarks, to question the reality and the future of this profession.er.
First edition limited to 100 numbered copies accompanied by a signed edition  
Authors: Denis Bourges, Martin Winckler

30 x 20 cm - 100 pagesinterior in color - hard cover
ISBN: 978-2-36510-031-1