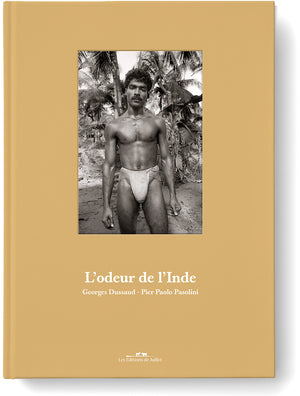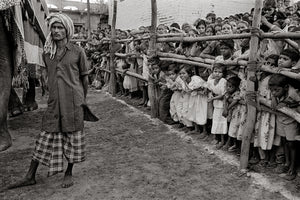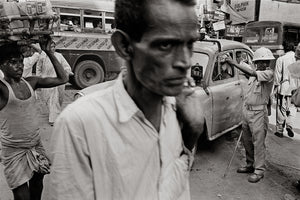 Georges Dussaud, traveling photographer, has crisscrossed India on numerous occasions, capturing Indians in black and white in their daily life, from the teeming streets of Calcutta, Benares, to the shores of Kerala.a.
InThe smell of indiade, his images are compared to the words of the great Italian author, written during a journey with Alberto Moravia and Elsa Morante. His texte  is not really a story, but the fruit of his nocturnal wanderings, where great poverty rubs shoulders with the strangest of spiritualities, on the borders of a primitive humanity.e.
---------------
« It's almost midnight, at Taj Mahal floats the air of a market that is closing shop. The large hotel, one of the most famous in the world, undermined through and through with corridors and lounges with very high ceilings, one has the impression of strolling in a gigantic musical instrument, is filled only with boys dressed in white, and doormen. of the gala turban, which await the passage of dubious taxis. Now is not the time, no really, to go to sleep, in these rooms as large as dormitories, loaded with motley turn-of-the-century furniture, with their fans like helicopters.coptères.
Pier Paolo Pasolini extractt)
---------------
172 pages - 45 photographss
Hard cover
Format 220 x 270 mm
Two-color printing
ISBN: 978-2-36510-061-8