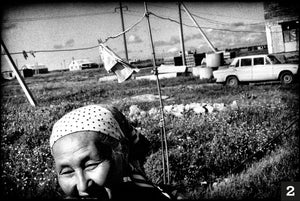 First monograph dedicated to this great photojournalist, Journal d'un photographe takes us through the tremors of the world, from Nicaragua to the Israeli-Palestinian conflict, from Chechnya to Poland, from China to Slovakia. His emblematic photos of recent history are accompanied by his personal, sensitive and intimate work, a moving look at his family history. This book, rich in a body of more than 200 photographs, will include texts from the photographer's eponymous blog.he.
« When I was young, I went to the end of the runways at Orly airport to watch the planes land. They made me dream of all those distant lands which filled my geography books and which seemed unattainable to me. My first flight took me to Scandinavia, the start of future adventures. But it was Friday August 30, 1968, at 11:53 p.m. at the Gare de Lyon, which will remain as the day of the real break-up. It was in a train bound for Istanbul that I left France, determined never to return. After having photographed the tumult of the world for many, many years, I felt a need for a return to the intimate, by bringing me closer to my aging parents. It was then that my mother lost her memory.la mémoire.
Memory, disappearance, identity are the themes that weave this photographic work on the traces of my origins. The image is a way to maintain life by fixing forever events, small or large, near or far from which we ares witnesses and sometimes actors. What remains of our memory, if not a photograph ? »
Alain Keler won the Paris Match Grand Prize for Photojournalism in 1986, the World Press the same year, and finally the W. Eugene Smith Prize in 1997.
Characteristics of the booke
21.5 x 29cm - 352 interior pages in two-color and four-color - Canvas cover
ISBN: 978-2-36510-063-2