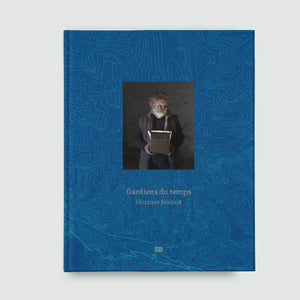 Located on the roof of the Cévennes, the Mont Aigoual Observatory is the last inhabited mountain weather station in France.Gardiens du temps questions the evolutions of science and the place of man in nature, through the daily history of the four employees and permanent residents of the observatory, who resist the extreme climatic conditions of this mountain, and the disappearance of their profession.
Technological developments in climate science have relegated naturalistic observation skills to the background, and now meteorologists look less at the sky than at the screen.
At Aigoual, humans still occupy a privileged place. The park's instruments are regularly maintained, meteorologists run a test center in extreme conditions ... And in summer, in the exhibition prepared for winter, they welcome the public to whom they explain the principles of forecasting.
But what intrigues visitors is above all this lighthouse keeper's way of life: how do you manage winter in this creaking building, buried in the snow or sequestered by the wind?
Unrolling a gallery of portraits of these men and women, in dialogue with an Olympian landscape with a powerful atmospheric dimension, the story borrows from mythology the codes of a metaphorical and poetic representation of this disused world. The Gardiens du temps seem to fabricate weather phenomena in the shelter of these thick, century-old walls. Or do they summon them inside for one last dance?
The Aigoual station is now destined for a new story. The site is being transformed into a climate change awareness center, which will open in 2022. A strong symbolic choice, and a great future project for this threatened place, where a topical subject will be questioned. But also a turning point for Aigoual, after more than a century of human observation and transmission.
The story of the Keepers of Time, from testimony to tribute, therefore becomes even more precious and nourishes an imaginary necessary for our dream-seeking society and carries a rare poetic and humanist heritage, which it is important to pass on.
-----
Florence Joubert works in the fields of architecture, heritage and science, and explores the world of trades there. In particular, she followed the Louis Vuitton Foundation site for 6 years, collaborates regularly with the Scientific and Technical Center for Building, and reveals the skills of luxury craftsmanship for various houses. She also regularly collaborates with the press in order (Polka, L'Obs, Le Parisien Week-End, Zadig…) and also publishes his travel stories in extreme latitudes, in photos and writings. His favorite subjects, on the fringes of the documentary, recount places with a strong historical dimension and unique characters in close relationship with nature.
The text is by Fabien Ribéry,author, associate of modern letters, lecturer at the Université Bretagne Occidentale (UBO) and freelance journalist. He publishes regular columns and other articles in his blog,the interval, and Artpress, the magazine L'Infini (Gallimard),the journal of the MEP, Halide, Profane, 29200…
-----
210 x 270 mm format
Hard cover
ISBN: 978-2-36510-092-2