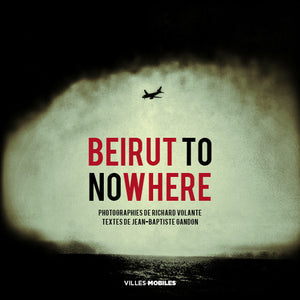 To the violence of reality, photographer Richard Volante prefers the slow path of ellipse and disfigured meaning. Sensibility flush with the image, he invites us here to take a Beyroutine walk, so close, but so far from warlike routines..
« I did not go to Beirut but I did not come back, could say Jean-Baptiste Gandon. With ink in his veins, J.-B. G. imagines a paradise of spoken words, a Homeric grammar, choruses that let go, writings in the silent night.e.
« I fell asleep exhausted under a hundred-year-old cedar, then woke up on a pile of ashes. An attempt at an imaginary story, born from a selection of photographs, eminently subjective, made on the basis of a very real journey,l, Beirut to nowhere shakes our certainties like a building crumbles under bombs..
Authors: Jean-Baptiste Gandon, Richard Volante
14 x 14 cm - 80 pagesinterior in colors - soft cover
ISBN: 978-2-36510-010-6 Beirut to nowhereis the second opus of the collection Villes Mobiles, carte blanche to authors and photographers, in the city of their choice, at the rate of two publications per year.
Record