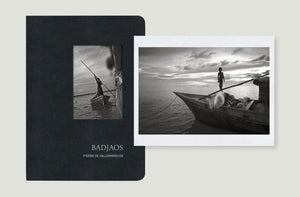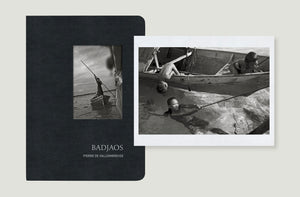 Lost at the borders of northern Borneo, the Celebes archipelago in Indonesia and the southern Philippines, navigating the Sulu and Celebes seas, thousands of nomads from the Badjao Sea see their way of life threatened, just like their sedentary cousins and all the populations of the region who live from fishing on the shallows. Millions of people are affected. In this region, a real powder keg, where pirates, Muslim extremists now linked to Daesh, corrupt police officers, traffickers of all kinds (humans, drugs, cigarettes, weapons ...), these few thousand stateless nomads are trying to survive , victims of these armed groups.

Since 1986, Pierre de Vallombreuse has been a tireless witness to the life of indigenous peoples on the five continents. He has created a unique photographic collection of 42 constantly evolving peoples, paying homage to the precious diversity of the world.
- The leading edition: a book signed by the artist and a signed print of a photograph in the format 16 x 21 cm at the price of 300 euros. Limited edition of 2 x 10 copies.
Once your order has been placed, please let us know in a message the number of the photo chosen.
--------
128 pages
± 40 photographs
Hard cover
Format: 185 x 240 mm
ISBN: 978-2-36510-082-3

This book benefits from enriched content thanks to Survival International France, the global movement for indigenous peoples, and Blinkl.
To visit Blinkl and Survival International France