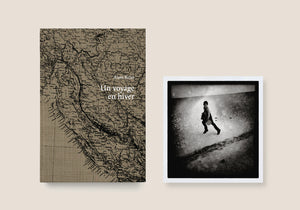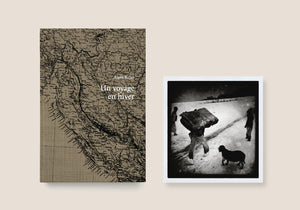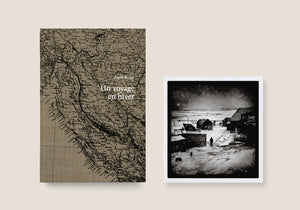 Fine Art Print Edition (13x13 cm image), signed and limited to 5 copies per print.

A winter trip is a journey from a village in Slovakia to Venice during carnival. After the success of Journal of a photographer, the great reporter-photographer offers a more intimate form, entirely made with a smartphone. The texts are taken from his diary.
"It was in 1999 that I began to take an interest in the Roma. The Serbs had just left Kosovo, defeated by NATO forces. The capital Pristina was empty, deserted by its Albanian inhabitants, driven out a few months before by these same Serbs. On the heights of the town, houses were on fire. They belonged to Roma, accused of having collaborated with the Serbian enemy. Driven from their homes, they had to take refuge in a camp protected by British forces from KFOR, not far from Kosovo Polje station Some were leaving the camp to board the few trains going to Serbia.
It was ten years later, in Belgrade, that I found many Roma from Kosovo, in a huge slum that stretched next to a highway, or hidden in a forest on the outskirts of the Serbian capital, or even under a railway bridge, invisible to the world.
Then it was in the Paris region that I continued this work. Roma from Romania, fleeing poverty and racism, had come to seek refuge in France. They lived in suburban slums. In turn, they were evicted from their frail homes, which were immediately destroyed by giant, noisy bulldozers.
In early 2009, a neo-Nazi march took place in the Roma neighborhood of Janov in Litvinov, Czech Republic. There I met Lenka, a Czech girl who was committed to their cause. She told me about the Roma villages in Slovakia.
Three months later, I picked her up in Prague. She will be my interpreter on this new journey. "
Alain Keler has covered all major conflicts since the mid-1970s: Israel, the Solidarność movement in Poland, Northern Ireland, the student revolt in Tian'anmen Square in Beijing, the famine in Ethiopia, the wars in Lebanon, El Salvador or Chechnya.
96 pages 45 photographs - Hardcover and canvas covere
Format: 140 x 180 mm - ISBN: 978-2-36510-078-6
A trip to winter.mp4 from July Editions we Vimeo.